Wheateena Marvel Red Label Wheatgrass Juicer
Read about my great experience with WheatgrassKits.com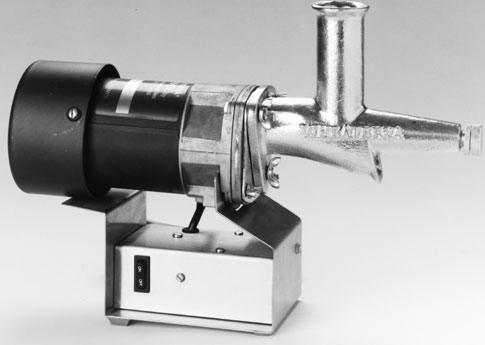 In 1966, Dr. Ann Wigmore, founder of the
Hippocrates Health Institute in Boston
, commissioned Sundance Industries to design an efficient wheat grass juicer. Since then they have been designing and manufacturing many variations of the ORIGINAL WHEATEENA WHEAT GRASS JUICERS.
The WHEATEENA line of wheat grass juicers are manufactured 100% in the USA. The juicers are sturdy, efficient and reliable. "SERVICE and RELIABILITY" is their motto. They have served the health food market since 1966 and are a phone calls away for information or advice.
Motor:
Red Label: 177 RPM, Torque 80 inch pounds max.
Dimensions:
10 1/2" x 15 3/4"
Juicing speed:
1 1/4 oz per minute
Shipping weight:
17 lbs.
Features:
Continuous pulp expulsion.

Durable and quiet heavy duty motor with steel gears.

Juicing fountain is precision machined, cast iron, full hot dip tin plated.

Juicer is mounted on sturdy stainless steel chassis.

Fully warranted 3 years for home use.

NSF & UL Approved

What's the difference between the Green Label and Red Label Juicers?
Red label has an adjustable outlet screw to ensure driest pulp

Speed of juicing & Motor

Unit oz per minute (avg.) RPM Torque inch pounds
Red Label 1 1/4 177 80 in lbs.
Green Label 3/4 105 60 in lbs.